December 2010 – For Colored Girls: A Vision of a World Without Black Men


Posted on December 5th, 2010
For Colored Girls: A Vision of a World Without Black Men
Greetings from the War Front,
As Afrikan people, the historical relationship between the Black man and woman has been the bedrock of Black civilization and greatness.  This ironclad relationship bond has held through the fall of Ancient Kemet, the great Empires of Songhai, Mali and Wagadu, The Maafa (The TransAtlantic Slave Trade), Colonialism, and Jim Crow.  And for the Black woman to stand beside the Black man after our repeated failure to defeat whites in battle and protect our Race, she has got to be a Black Goddess.
It is only in the past few decades that the Black woman has begun to turn against her natural companion, the Black man.  As strange as it may sound, the modern media weapon system has been effective in doing what centuries of slavery, genocide, rape and torture were not.  whites have finally gotten Black women to collectively agree that Black men should be destroyed.
That's correct.  Though they will not say it directly in most cases, Black women are absolutely fed up with the existence of Black men.  They want to see us gone.  And for the most part, they have no idea that many of their feelings towards Black men are largely a consequence of modern media and the direct warfare whites are waging on the Black female mind.
One of the clearest examples of this war is the pattern of anti-Black male films financed, directed, and/or produced by smallhats (white so-called jews) and Blackskinned white-sex offenders (homosexuals and pedophiles) since the Color Purple.  In particular, Precious and For Colored Girls are only sequels to a perverse and hurtful story of Black male against Black female abuse resulting in lesbianism, a sense of abandonment, murder, torture, and Racial betrayal.  All of the "good" people in this genre of films are "homosexual," white and/or female; and all of the "bad" people are dark-skinned, Black males, and/or pedophiles.
Essentially the message has been that Black men are useless and deserve to be hated by Black women.  However, For Colored Girls takes a turn in a decisively new direction.  In one of the most extreme examples of Black self-destruction we've ever witnessed, a veritable cornucopia of Black women collectively agree that other Black women are all that Black women are going to get and all they need to make it through life.  From a mother-daughter family who experienced generational sexual abuse from the dominant Black male figure in their lives, to a good sister who was viciously and sadistically raped by a Black male monster whom she invited into her home, to a sister whose homosexual husband gave her AIDS, to a Black woman whose husband threw her two children out of a window to their death, to a sister who had the perfect Black man (of course he was a police officer),  all of the Black women in the jewvie agreed that Black men were of no consequence and no value.
These creepy Black social horror films that were birthed out of the polluted smallhat womb of the Color Purple have captured the hearts and minds of Black women throughout this country.  And Black women are now being recruited by the white Race to assist in the demise of Black men.
For any reasonable Black man who has significant interaction with Black women, the changing tide of Black female hatred towards Black men is evident.  For Black women who don't see the trend, the following clip demonstrates how obvious and apparent this reality truly is.  This is a clip of a racist white female who attacks a Black us postal worker for not accepting a returned letter.  As her anger intensifies, she opens up to the fact that she is knowledgeable of the fact that Black women have been recruited by whites to help in the destruction of Black men.  Listen to her carefully.  In her anger, she expresses the fact that whites have intentionally and successfully enlisted Black women in the destruction of her own race.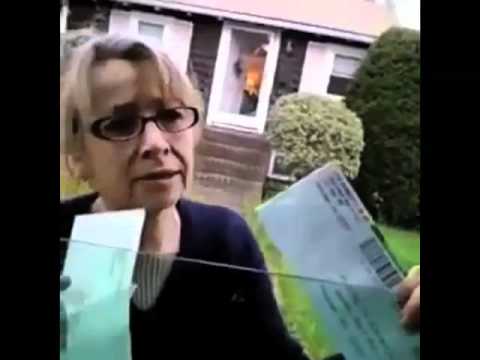 Please read the following post which was created when the jewvie Precious was created last year.  Determine how accurate you believe War on the Horizon (WOH) has been in keeping our community informed on the smallhat sponsored, white-sex media assault against Black people.  If you think this information can help other Brothers and Sisters realize that our relationships are under attack by the motion picture industry, please share it.  Enjoy.
There is a huge buzz about the new jewvie called "Precious." It is being pushed by 3 members of the Black "homosexual" community – Tyler Perry, Oprah Winfrey, & Lee Daniels.
Each of them are victims of child sexual abuse and each has entered into a life of sexual and racial backwardness.
As a result of Tyler Perry's sexual abuse at the hands of an adult Black woman he has embarked upon a mission to decimate the image of Black women (see Tyler Perry's story).
The emotional pain and agony of experiencing sexual victimization as a child is more than any one soul should have to bear. In the case of Black people worldwide, we are a Race of sexual abuse victims trying desperately to cope with the spiritual agony of our sexual exploitation.
Our hearts pour out to brothers like Mr. Perry who were victimized by the sick, predatory members of our Race. It was not his fault that this occurred. And we must do every thing in our power to ensure that the sexual abuse of Black children is brought to an abrupt end.
However, he has no right to assault the image and character of all Black women because of the abuse he suffered at the hand of one sick Black woman.
Almost every jewvie this sick "homosexual" Negro is involved in demeans the relationship between Black men and women, belittles the institution of marriage, and tells the world that the Black woman is a mean-spirited trashy whore.
Again, we apologize Mr. Perry for the abuse that you suffered as a child. It's our responsibility to protect our children from abuse. It was not your fault.
But this does not give you the right to attack our entire Race and the institutions that will keep Afrikan people alive.
Remember, just because you'd rather sexually engage with a Black man than a Black woman, doesn't mean all Black men are going to surrender to this madness!
| | |
| --- | --- |
| The authenticity of this picture has not yet been verified. | |
Oprah Winfrey's story is just as horrifying and sick as Mr. Perry's. She was sexually abused on more than one occasion by Black men in her family. The women in her family deny that the sexual abuse occurred to this very day.
Nothing that happened to Ms. Winfrey when she was a child was her fault. She is truly a victim of white supremacy.
However, as a result of her brutal emotional and sexual abuse as a child, Ms. Winfrey has become one of the most bitter, pro-white, anti-Black, Blackmale-hating, feminist, "homosexual" friendly, self-hating, Uncle Tom mammy, political lesbians the Black world has ever seen.
And almost every jewvie she is affiliated with demonstrates this.
The Color Purple, has been branded by The Irritated Genie of Soufeese as the single worst film ever produced based on its intent, execution, and impact on the Black world community. The production team for The Color Purple is shown below.
Oprah Winfrey's sexual abuse has resulted in the creation of a wealthy Black political lesbian Race-traitor, committed to the worshipping of the white Race, the effeminization of the Black male, and the "homosexualization" of Black people around the world.
War on the Horizon doesn't normally make predictions. However, we will make an exception this time. We expect Ms. Winfrey to openly "come out" about her sexually backwards deathstyle sometime within the next year or so. The climate and the time are ripe for such a blow to the Black moral expectation pool. Keep your ears open.
The newest, and perhaps the sickest member of this "homosexual" trio is Lee Daniels. Our sexually backwards brother has not come out about his sexual abuse as far as we know. But his actions and deathstyle tell us most of what we need to know.
This twisted Black male is the mind behind such horrific media filth as Monster's Ball, The Woodsman, & now Precious.
The scenes in Monsters Ball depicting the whorish mulatto, Halle Berry, are now infamous. Most people don't know that the producer was a Black male homophile (who apparently hates Black women).
But The Woodsman was worse than Monsters Ball. This jewvie actually creates sympathy for a child molester who gets out of prison and tries to molest again. Even after he pursues a young girl for sex in the park, he's depicted as a good guy.
It is here that we see the clear link between the "homosexual" and the pedophile. It takes a Black "homosexual" to justify the filth of pedophilia and promote it to the world as acceptable behavior. Every sane person in the Black community knows that it's wrong to rape children. But because the "homosexual" and the pedophile are cut from the same filthy white cultural clothe, they work together to promote "white-sex" or "homophilia" to our people.
***This pro-pedophile jewvie was supported and financed by hip-hop mogul – Damon Dash.***
This jewvie promotes pedophilia!!!!
Since The Color Purple, whites have not produced another film that's had the same impact on our people. The Color Purple helped make feminism and lesbianism part of Black female culture and led to the common notion among many Black women that "I don't need a man. I can do bad/fine all by myself."
The hatred for Black men has become ingrained in Black female culture; and the degenerate hip-hop culture legitimizes the lack of substance in the Black male character. It also promotes misogyny (hatred for women) and violence against Black women which only furthers Black women's hatred for Black men.
For the first time since The Color Purple, a jewvie has been created that can have the same disastrous impact on the Black Race.
Precious is a jewvie financed, created, promoted, and directed by Black homophiles. The film depicts very graphic Black-on-Black scenes of sexual abuse which do occur in our community. It also depicts the verbal and emotional abuse dark-skinned Black women face in this society.
We need films that deal directly with the emotional and psychological issues confronting the Black community. Antwone Fisher is a prime example. The difference between the two jewvies is in the characters of the producers.
Denzel Washington is a heterosexual Black man who is happily married to a Black woman. As a result, Antwone Fisher partners a loving Black woman with a Black male victim of child sexual abuse. This warm and supportive Black woman helps him find his long lost family and ultimately love for himself.
By contrast, the promoters of Precious are homophiles who hate the complementary gender. As a result, every member of the Black Race is assaulted. Black men are depicted as evil, sexually degenerate, pedophiles who hate and abuse Black women and children. Black children are depicted as being holistically abusive to one another. And Black women are portrayed as the worst, most abusive women on the planet.
Precious might as well be titled The Color Purple (2009). The themes are almost identical except that the Black man was the hideous monster in Color Purple (1985). In fact, Precious depicts Black women worse than The Color Purple depicted Black men.
A brief comparison of the 2 films exists below:
The Color Purple – 1985
Black men are monsters who hate, rape, and otherwise abuse Black women and children.
The Black man, not the white Race, is the Black woman's historical abuser, oppressor, and enemy.
Lesbians are the Black woman's saviors
Precious

The Color Purple – 2009
Black men and women are monsters who hate, rape, and otherwise abuse Black women and children.
The Black man and woman, not the white Race, are Black children's oppressors and enemies.
whites and Lesbians are Black children's saviors.
Precious could be one of the most dangerous films ever made. And this time it was not the evil hand of the white so-called jew (smallhats). Instead, sick members of the Black homophile community put this together from their collective pain and sickness.
Like the The Color Purple 1985, the Black homos save the day in the jewvie Precious. In the 1985 version, Shug Avery (the mighty dike-lesbian) preyed upon the emotional instability of Ceely to draw her into lesbian misbehavior. But the predatory lesbianism in the jewvie was so cleverly executed that most people didn't recognize that they were watching and thereby endorsing "homosexuality."
In this new and improved version, the little girl is named 'Precious.' Her biological mother sexually abuses her. Again, as in The Color Purple, the "homosexuality" is downplayed. One is supposed to forget that when the mother makes her daughter perform oral sex on her, she is a lesbian raping a child. Most people miss this.
There are only two people who go out of their way to help Precious in this film. One is a white female saviour who gets her into a special school. The other one turns out to be a practicing Black lesbian.
In the jewvie, Precious verbally defends, and thereby endorses "homosexuality." She does this even though her mother forced her into lesbian ("homosexual") sex.
This jewvie is not designed to help Black people. It is a cleverly disguised Homophile Assault on the Black Race. It makes us look like a Race of monsters who are void of character and decency. And the only "decent" members of our community are "homosexuals."
The white Race is made to look like they are the decent ones, while we are a bunch of wild animals who ravage one another for sport.
Never is a Black man shown intolerant and hateful towards the idea of someone molesting a child!!! Never is the solution given to this sexually backwards assault on our youth.
So we'll give it. Since sexually backwards monsters in the Black community are terrorizing our children, it's time for us to eliminate them from the equation. This is the answer.
The following video shows what we are fighting at the hands of this emerging Homophile Empire. It is extremely disturbing and graphic.
Viewer discretion is advised.
Sexual degenerates like Barack Obama, Oprah Winfrey, Tyler Perry, Lee Daniels, R. Kelly, Queen Latifah, Keith Boykins, Al Sharpton, Naim Akbar, and others who parade around our community promoting european sexual madness are enemies to the Black Race.
They are building a "homosexual" empire that must be crushed to Earth if our people are to survive the 21st Century. Time is short. We must organize now. It's War Time.
We'll See You on the Battlefield
The Irritated Genie of Soufeese
You can leave a response, or trackback from your own site.
Leave a Reply